Lab Testing
THE IMPORTANCE OF EARLY SCREENING
Vascular disease and stroke can be prevented, detected, and treated – that's the good news. However, most people don't take the opportunity to get screened. Typically, during these screenings, 5-10 percent of people looked at can have signs of vascular conditions, including blocked carotid arteries, aortic aneurysms, and PAD. Most people never know they have a problem.
Vascular disease outside of the heart – in the carotid arteries in the neck, the aorta, the arteries in the legs and arms or veins – is similar to heart disease in the sense it is caused by atherosclerosis (hardening of the arteries) of the arteries or venus insufficiency (poorly functioning veins). The potential severity of these diseases is significant. It can lead to hospitalization, severe disability long term and can even be fatal. With early detection, most vascular disease cases can be treated effectively. There are several simple ultrasound screening tests that detect these problems, all of which are non-invasive and painless.
WHAT WE OFFER AT THE VASCULAR CENTER
The Vascular Center is a AAAASF accredited facility that offers non-invasive diagnostic vascular testing for Venous and Arterial diseases. Accreditation is voluntary and requires the validation of consistent usage of techniques and protocols that assure the highest level of clinical accuracy. This accreditation demonstrates our commitment to quality vascular testing that meets or exceeds nationally recognized standards.
The quality of vascular testing is a key component of effective diagnosis and care. The Vascular Center Laboratory provides non-invasive testing to identify vascular diseases. Test results are read by our expert team of vascular technologists and specialists. These tests are critical in identifying or ruling out conditions such as Peripheral Arterial Disease (PAD), Deep Vein Thrombosis (DVT), Renal Artery Disease, Aortic Aneurysms, and Venous Disease.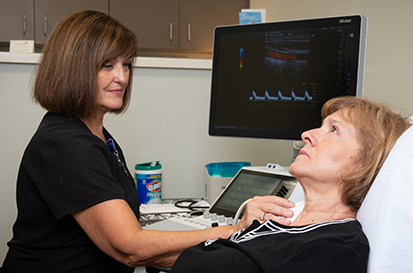 Our team of highly trained vascular technologists will provide you with the care and expertise you need to get the proper testing and evaluation.
CEREBROVASCULAR DISEASE
Transient ischemic attacks (TIA)
Stroke screening
Carotid bruits
Pre-op for vascular/general surgery
Post-endarterectomy follow-up
Carotid vascular disease monitoring
Non-hemispheric cerebral symptoms(dizziness)
Ocular changes or symptoms
VENOUS DISEASE
Suspected deep vein thrombosis
Lower extremity edema
Venous insufficiency or varicose veins
Leg ulcers
ARTERIAL DISEASE
Extremity pain or cramping
Rest pain
Intermittent claudication
Non-healing lesions
Pre-op for orthopedic/podiatry surgery
Vascular surgery or angioplasty follow-up
COMMON VASCULAR TESTS
Why Choose Vascular Center Laboratory?
Accredited through the American Associate for Accreditation of Ambulatory Surgery Facilities, which assures the quality of care
Highest level of clinical accuracy
Tests read by experienced vascular specialists
State-of-the-art equipment and facilities run by an expert medical team
Prompt test results and communication
Patient convenience
Testing is scheduled at the location most convenient to your patient
Tests are covered by most insurance companies
Contact Us Today To Schedule Your Appointment